Ta da! Here is the reveal of my favorite Christmas cookie of all time ~
Candy Cane Cookies
!
I'm not sure if I love these as much as I do because my grandmother would make them every year when I was a child, because they are so cute, or because they are delicious. In any case, these cookies come out on top as my absolute favorites.
Below I've posted the recipe. As you can see they don't have to be perfectly formed, as it is pretty much impossible to do. (Although somehow my grandmother was able to get them perfect.)
Anyways, a couple tips I have to offer would be to keep a damp paper towel over each bowl of dough as your making the shapes to keep things moist, and to leave yourself plenty of time to make them.
Enjoy :)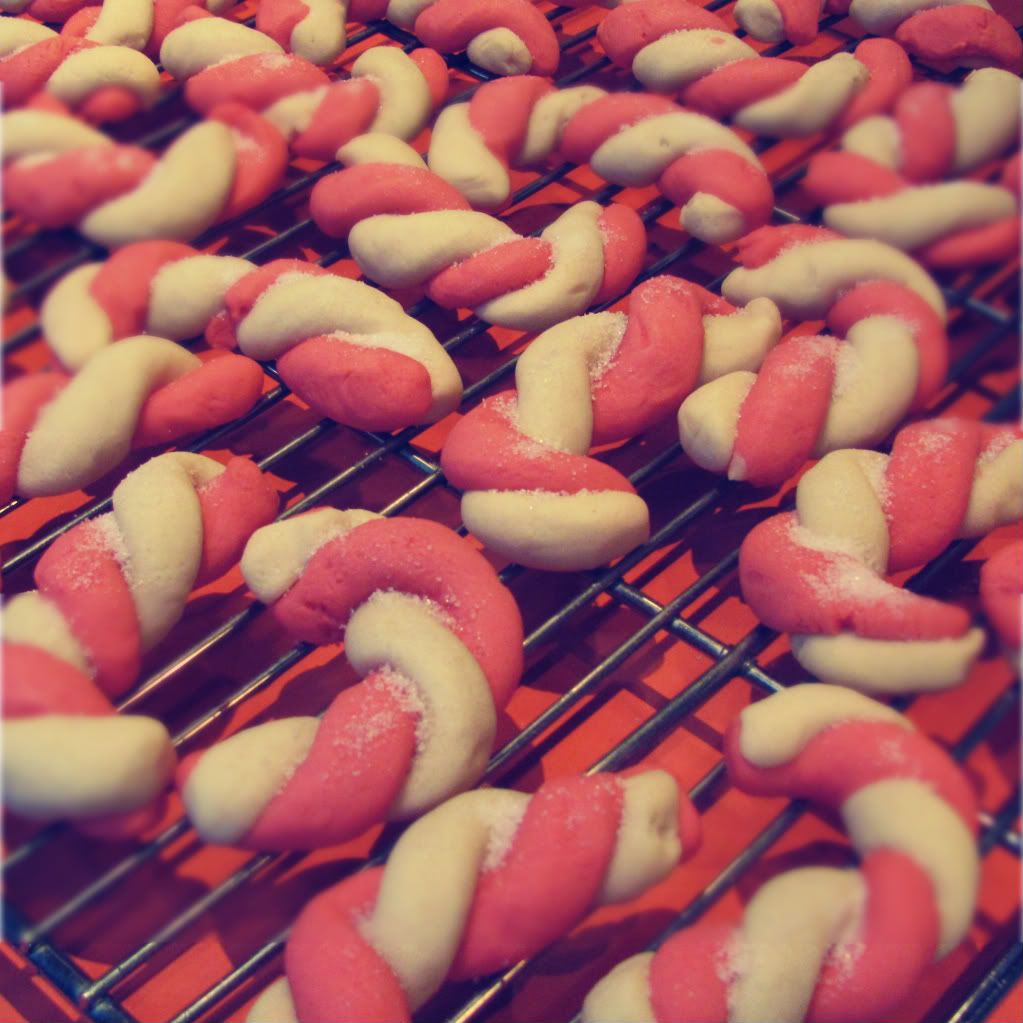 Candy Cane Cookies
1 cup shortening or 1/2 cup butter
1 cup sifted confectionary sugar
1 egg
1-1/2 tsp. almond extract
1 tsp. vanilla
2 cups flour
1 tsp. salt
1/2 tsp. red food coloring
1/2 cup sugar
Heat oven to 350 degrees
Mix shortening (or butter) sugar, egg and flavorings thoroughly.
Measure flour, mix with salt ~ stir into shortening (butter) mixture
Divide dough in half ~ blend food coloring into one half
On a lightly floured board roll a 4" strip using tsp dough from each color
Place strips side-by-side, press lightly together and twist like a rope
For best results complete one cookie at a time, keeping the moist paper towels over the remaining dough
Place on ungreased cookie sheet, curve top to form handle of cane
Bake about 9 minutes or until lightly browned
While still warm sprinkly with sugar
Makes approx. 4 dozen