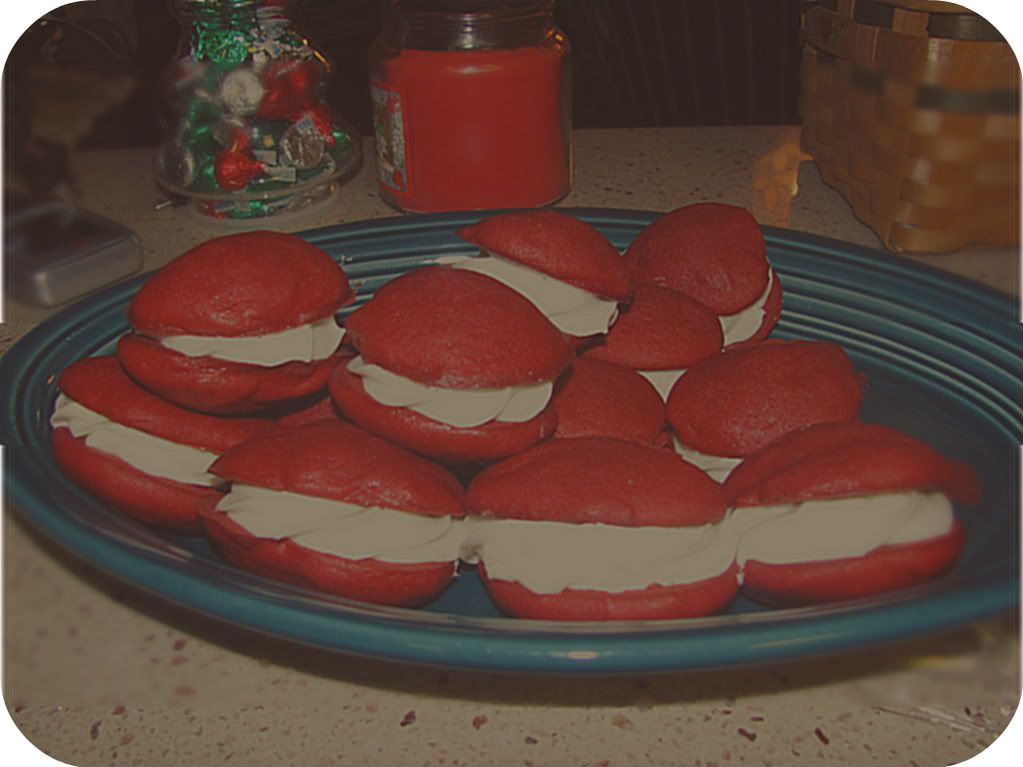 In my family "Whoopie Pies" were a common dessert that we loved as kids, and still love today. You may ask "what is a Whoopie Pie?". I've read a bit about how in different parts of the United States this dessert is also called "Moon Pies", and in some parts of the US they are unheard of. As for other countries, I'm curious as to whether or not these even exist??
Anyways, regular "Whoopie Pies" are little chocolate cakes the size of a cookie, or larger if desired. You mix the batter, bake little circles of the batter on cookie sheets, and then fill them with a creamy filling similar to buttercream frosting, but with fluff added to the mix.
Over the holidays I wanted to make something not just special, but kid-friendly as well. I started brainstorming ideas such as a "Red Velvet Cake" or cupcakes. Then I wondered if there was a recipe out there for "Red Velvet Whoopie Pies", and sure enough there was.
I located a good recipe that did not call for a boxed cake mix to be used, as most of the other recipes I found did. It was a bit of a risk making something semi-new for a holiday, but I decided to take a chance and the results were fantastic. They were so yummy in fact that I decided to share the recipe :)
Adapted from Grouprecipes.com
Makes approx. 60) 1", 42) 2", or 24) 3"
2 Tbsp. unsweetened cocoa powder
1) 1 oz. bottle red food coloring (2 Tbsp.)
Cake Directions
1) Preheat oven to 375 degrees. Lightly grease two cookie sheets. Set aside.
2) In a medium bowl combine flour, cocoa powder, baking soda and salt. Set aside.
3) In a large mixing bowl beat butter on medium to high speed for 30 seconds. Beat in brown sugar til light and fluffy. Beat in egg and vanilla.
Alternately add flour mixture and buttermilk, beating well after each addition, but until just combined. Stir in food coloring.
4) Spoon batter onto cookie sheets in 1" or 2" diameter rounds, leaving 1" between each. (If you'd like them a bit larger you can go up to 3", but you won't have as many.)
5) Bake 7-9 minutes for 1" sizes, 9-11 for 2" sizes, and estimate timing for larger sizes, all until tops are set.
6) Carefully remove from baking sheets and cool on racks.
Filling Ingredients
4 oz. cream cheese, softened
1) 7 oz. jar marshallow cream
2-4 cups confectionary sugar
Filling Directions
7) In a medium mixing bowl beat butter and cream cheese until smooth. Fold in marshmallow cream.
8) This is where I made an adjustment to the filling recipe; Add 2-4 cups of confectionary sugar, or until filling is of desired consistency.
9) To fill, dollop filling on the flat sides of half of the cakes, and top with remaining cakes, flat sides down.
Enjoy!