The weeks have been flying by like crazy! Where does time go I'll never know, but here we are once again with my Fabulous Friday Finds post!
I always have so much fun preparing for these posts. I start with a random theme such as a color or a phrase, and then I sign onto Etsy and begin my journey.
I can spend hours looking through all the wonderful handmade and vintage items I come across. All of these either inspire new creative ideas for myself, or inspire me to spend money!
This week I chose red and blue as my "theme". I absolutely LOVE this color combination, use it a lot in my own creations, and decided to see how others combine these colors.
I only choose 9 items a week, although I had many more bookmarked to use :) There is a mixture of handmade, vintage and repurposed goods. The links to each Etsy shop is under the collage if you'd like to see more from a particular shop. Keep in mind that it is important to support these types of businesses possible :)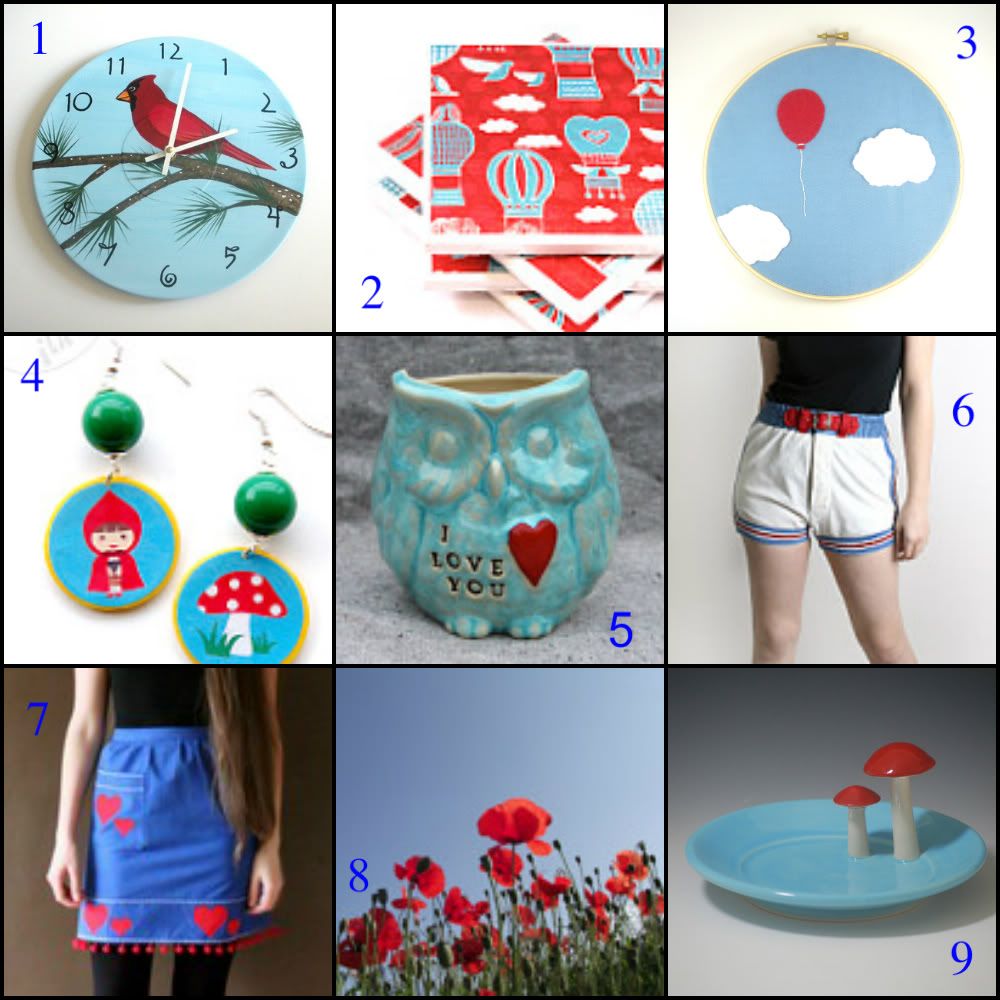 1}
Recycled Wall Clock from NizaHandbags on Etsy
2}
Set of 4 Tile Coasters by littlecoastergnome on Etsy
3}
Red Balloon Embroidery Hoop by DreamingInCraft on Etsy
4}
Red Riding Hood Earrings by Filoecoloridiila on Etsy
5}
Owl Vase in Stoneware from gutentagfibers on Etsy
6}
Vintage White Shorts from zwzzy of Etsy
7}
Vintage Handmade Blue Apron Wrap Skirt from Kardemumma on Etsy
8}
Poppies Flower Photograph by VictoriaEnglishCharm on Etsy
9}
Mushroom Soap Dish, Spoon Rest or B Dish by Ibegley on Etsy
Happy Friday All!
xo,