...A Cameo Appearance!
Trend Watch ~ Have you noticed the latest trend which has brough back the cameo?
In the past cameos were romantic jewelery or hair accessories.
Today things have changed, in a big way.
Sure there's still traditional cameo designs which I think are beautiful,
but no longer are cameos only pastel and romantic. During my Etsy search this week
I came across the coolest products with cameos which are not pastel, nor romantic.
I would describe this collection as coloful and fun.
I know colorful and fun is not what comes to mind when you hear the word cameo,
but after checking out these products you will have changed your view on cameos.
(Although I did sneak one vintage item in there that was colorful, but still romantic.
Can you spot which one? :)
As usual each product is numbered, and below the collage is a link to each shop
if you'd like to see more from a particular artist.
Enjoy :)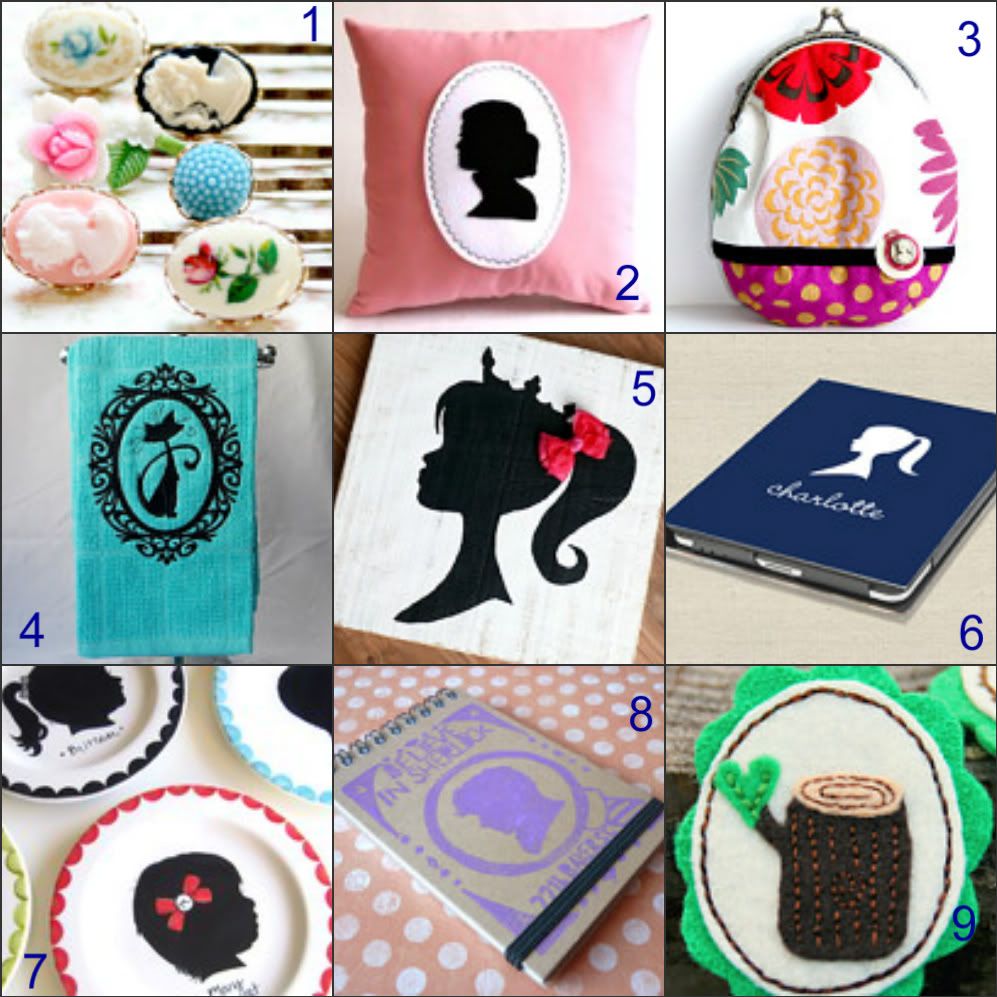 1}
Vintage Cameo Collection of Bobby Pins from NestPrettyThingsShop on Etsy
2}
Audrey Hepburn Custom Color Decorative Accent Pillow by regansbrain on Etsy
3}
Coin Purse with Colourful Spring Flowers & Dots by microbio on Etsy
4}
Kitty Cameo Embroidered Kitchen Towel by FabulouslyFierce on Etsy
5}
Upcycled Farm Wood Silhouette Princess Cameo Painting by TheCuddlesFactory on Etsy
6}
Personalized iPad Case by PrettySmitten on Etsy
7}
Traditional Silhouette Collection Custom Large Plate - Hand Painted by AedrielOriginals on Etsy
8}
Believe in Sherlock Mini Printed Notebook by IGotAJarOfDirt on Etsy
9}
Felt Cameo Brooch Loving Log Eco by LittleGrayFox on Etsy
So what do you think?
Do you prefer old-style cameos, the trendy new-style cameos or both?
I have to say I ♥ both.
Happy Friday!
xo,