I've never had success flying a kite. Either it's not windy enough, too windy, or everything just tangles up in my clumsy hands. Then I get all hot and grumpy, and that's the end of that.
What I do love is to watch others fly a kite. I think they are colorful, beautiful, and they seem to have just a bit of magic. Or maybe you need just a bit of magic in yourself to have the ability to fly one.
This week my "Fabulous Friday Finds" post is all about the magical kite! As usual each item is an Etsy find, with a mixture of handmade and vintage. If you'd like to see more from a particular seller/artisian, each photo is numbered and all the links are listed below the collage.
Ready, set, take flight!!!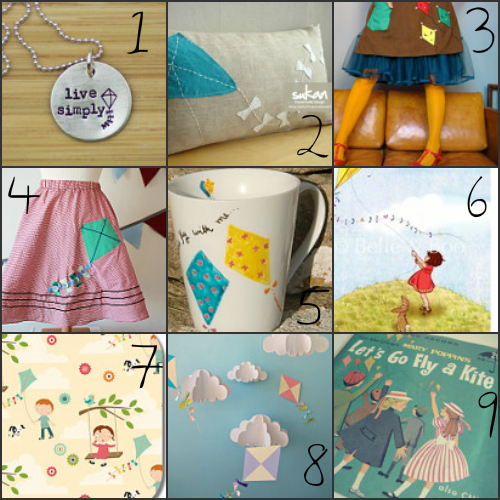 Such lovely items ~ if asked to chose a favorite, I don't think that I could :)
Happy Friday!
xo,