The title of my post from Saturday was "Forecast ... Rain". This was the case for the entire weekend, and unfortunately for most of this coming week as well.
This kind of weather can also mean completed projects, if I can motivate myself that is. Here are a few snapshots of a few of the things that I did to keep myself busy during this rainy weekend. It actually flew by pretty quickly.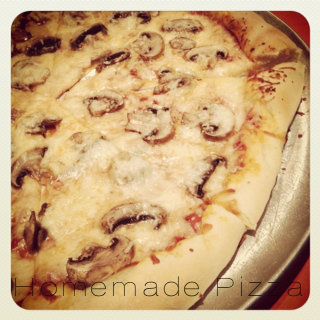 Friday Night was homemade pizza night! I love using my bread machine to make the dough, then I roll it out, add sauce, cheese, and whatever toppings we have on hand . It has such a different flavor than the pizza you can buy around here, and I'd say a bit healthier too. Sometimes I make white flour dough, and other times whole wheat dough.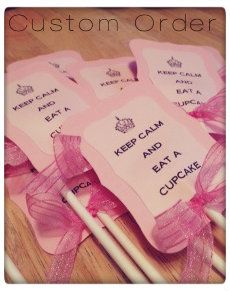 Saturday I finished up a custom Etsy order for my "Keep Calm and Eat A Cupcake" cupcake toppers. I had a set listed in my shop which was black and pink with a lace ribbon, but a customer requested all pink. Personally I love all pink, and was happy to have someone actually request it :)
Sunday was Taryne's piano recital. The students range from 1st grade up to high school seniors, so there is quite a variety of abilities. Normally Taryne gets really nervous before a performance, but this year she was able to remain pretty calm. She played "Polonaise in G Minor" from F. Chopin. It turned out beautifully, which is always a relief. It is difficult to watch when someone makes a mistake and cannot easily recover from it. She was also awarded a medal for perfect attendance for five years, and a certificate for participation in the "National Piano Guild Auditions" which is referred to as the SAT's for piano.
All in all it turned out to be a lovely weekend.
Highlights for this week include:
1} Wordless Wednesday Blog Party!
Remember to stop by and link up your WW photos!!
This was where I will once again attempt coloring mason jars without the paint being too thick, lumpy or streaky. Will I get better results this time around???
3} Fabulous Friday Finds!
This is when I choose a theme and handpick nine items from Etsy which fit my particular theme. I then create a collage with each item numbered, and include a direct link to each Etsy shop. I am always looking for theme ideas, as well as requests for your Etsy item to be featured. Just send me a message!!
Hope you all had a lovely weekend, and have a great week ahead :)