... court the fluttering butterflies"
Watching the metamorphosis of caterpillar into butterfly is amazing and beautiful, a miracle really.
We recently purchased a butterfly hatching kit, and over a period of less than a week we saw five ugly caterpillars form a chrysallysis, and then emerge as gorgeous painted lady butterflies.
We let the butterflies flutter around in their little habitat for a few days, but soon it was time to release them.
Autumn gently took each butterfly out of the habitat, held her hand out, and each one floated away upon the air.
Days later we believe we still catch glimpses of them fluttering by quickly, here and there.
Autumn enjoyed this activity so much that we will be sure to do this a few more times before summer's end.
Before I go I want to thank the lovely ladies from Create-With-Joy.com for including my Banana Pudding Recipe as one of their "Highlights of the Week", on their "Inspire Me Monday" post :)
Click below to visit this wonderfully inspiring blog ~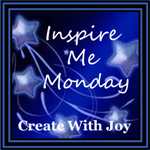 I'm also linked up to Storytime ABC's
Blog Hop!! All about BUGS!