I love it when this girl of mine has a plan. She will announce to me what the plan is,
and then there's no stopping her. Yesterday the plan
was to make homemade lemonade.
So off to the store we went. Autumn was all excited at the store choosing her
own lemons, without any assistance
Once we were home I was assigned the job of letting her know what to do, and that's all I was needed for. (Oh yea, and also to take over when her arm grew tired from squeezing lemons.)
I found the perfect recipe, which involved making simple syrup so that the sugar is fully dissolved before mixing with the lemon juice. The entire process was actually super easy, and Autumn was able to do most of the work,
with my supervision of course.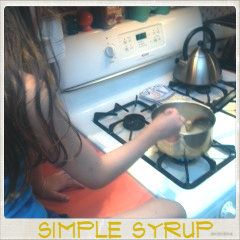 1} Mix together 1 cup of sugar and 1 cup of water in a saucepan
Stir over medium heat until sugar dissolves; Set aside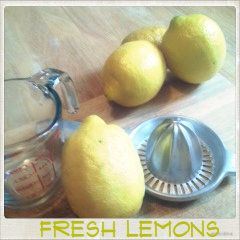 2} Gather four lemons and whatever tools you choose to use to squeeze out the juice.
3} Squeeze until you have 1 cup of lemon juice.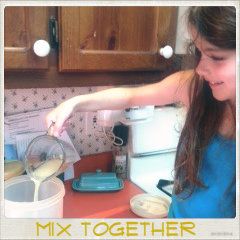 4} In a pitcher mix together the simple syrup, lemon juice and 3-4 cups cold water, depending upon your taste preference.
5} Refrigerate 20-30 minutes, or until nice and cold.
The silly part of this entire thing was when we were drinking our first glasses of the lemonade, I commented upon how delicious it was. Soooo much better than any store-bought lemonade. Autumn's comment was so her ~ "It's ok".
I can't believe the end of the week is nearing already. With tomorrow being Friday, I will be back with my "Fabulous Friday Finds" blog post.
If your new to my blog, this is when I choose a theme, search Etsy for nine handmade, repurposed and/or vintage items which fit this theme, then create a collage which I showcase here. There's always a direct link to each shop if you'd like to see more from a particular artist.
And I'm also always looking for new theme ideas, or items to be featured. If you have an idea for a theme, or your an Etsy seller with an item you'd like to be considered for a feature, just send me a message! I'd love to hear from you!
Also beginning Friday evenings and lasting through the weekend, is my new "No Rules Blog Party"! This is where you submit your thumbnail linky and go! No rules to tie you down. (Of course if you follow me or comment I ALWAYS return the ♥).