I don't recall my family ever eating Mexican food while I was growing up.
But what I do know now, is that when I finally got a taste of it, I was in L♥VE!
These days I may go overboard with the Mexican theme, but it's so delicious I can't help myself!
The Mexican dish that I make most often is tacos. Mainly because it's easy, fast, and semi-healthy. Sometimes I substitute turkey for the ground beef, and I've also tried (unsuccessfully I might add) making my own homemade taco seasoning rather than using the packet from the store. I cringe every time I look at those packets, and my homemade versions were just not up to everyone's standards.
Then one day while browsing on Pinterest, I came across a recipe for Beef Tacos that was a bit different than the others I tried in the past, and
decided to give the homemade stuff another whirl.
One of my kids (who will remain nameless) rolled her eyes when I said I was attempting another taco recipe. "I just like the stuff in the packet" she said. My reply was to remind her that if we find a good homemade recipe it would be so much healthier.
This recipe turned out really good and the kids liked it!
Two points for me (no actually 100 points for me)!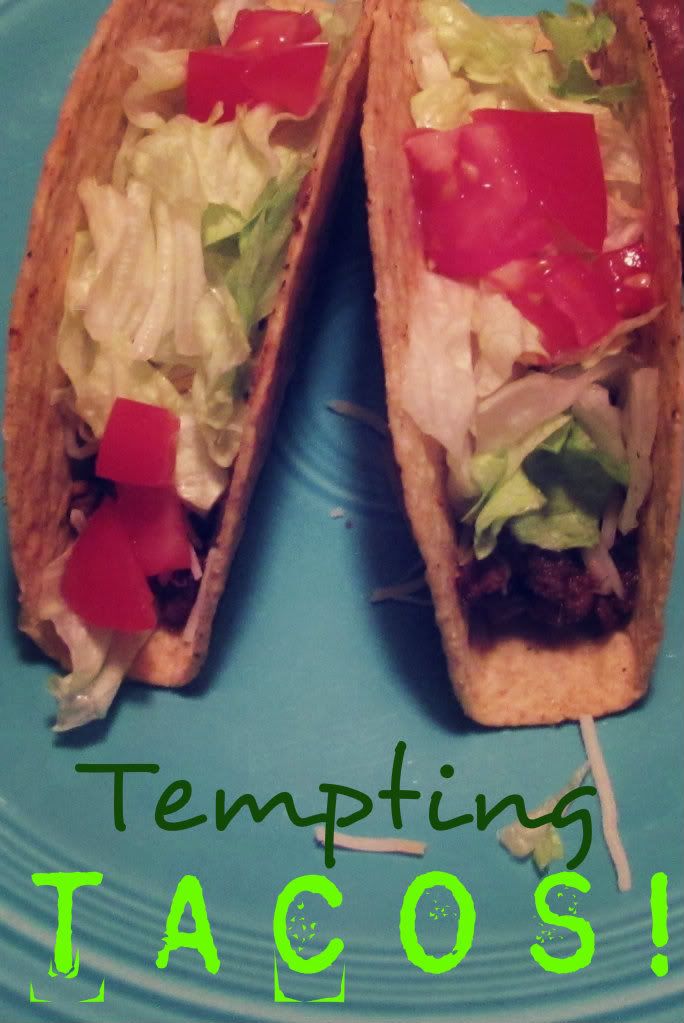 Ingredients:
1 tbsp vegetable oil (I used olive oil)
1 onion, minced (I just chopped mine like I always do)
3 garlic cloves, minced (I used the pre-minced stuff in a jar)
1 lb. lean ground beef (you could substitute ground turkey for a healthier version)
1/2 cup canned tomato sauce (I used 1/2 c jar pasta sauce)
1/2 cup low sodium chicken broth (I used low sodium beef broth)
Directions:
1} Heat oil in a medium skillet over medium heat until simmering
2} Add the onion and cook until softened, about 5 minutes
3} Stir in the garlic, spices, and salt
4} Cook until fragrant, about 30 seconds
5} Stir in the ground beef (adjust spices to your preference)
6} Cook, breaking up with a wooden spoon, until no longer pink, about 5 minutes
(the recipe doesn't say to, but at this point I drained the meat and returned to the skillet)
7} Stir in the tomato sauce, broth, vinegar, and sugar
8} Simmer until thickened, about 10 minutes
Fill taco shells with meat mixture and add whatever toppings you like for your tacos.
I usually do shredded cheese, sour cream, lettuce, and tomatoes.
* This recipe was originally published in the "America's Test Kitchen Cookbook"
Today is Thursday which means this afternoon my NO RULES Weekend Blog Party will be open! If you haven't linked up before, this party is perfect for promoting anything you like such as FB pages, Twitter, Pinterest, G+, Instagram, your blog, or Etsy shop!
The party will remain open all weekend long, and I will also be linking up with some fab parties myself :) If you'd like to see where I party just click here --> Link Parties. This will bring you right to my Link Party page :)